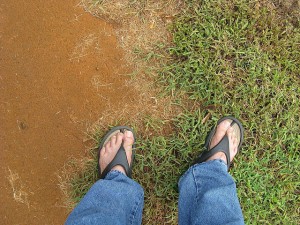 Maya took some soil from her garden and and put it in a plastic bottle . She then added some water to it and shook the bottle hard until it was a muddy mixture. She left this for about half an hour and then came back to look at it.
Guess what happened?
The mixture looked divided into two parts. The darker bottom part and the lighter top part. How did this happen?
Soil is mainly made up of minerals and pieces of rocks. These rock pieces can be big or small, heavy or light, or even in powdered form. Soil also consists of dead plants and tiny living creatures.
When Maya mixed soil with water, all the heavier particles from the soil settled at the bottom while smaller lighter particles remained on top.
Soil is an amazing product of nature and without which there would be no life.
Think about it !! Everything we eat directly or indirectly comes from the soil !!
Can you guess?
Which is a bigger rock piece?
Pebbles or Sand grains?
Related Posts