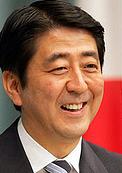 The Liberal Democratic Party (LDP) under the leadership of Shinzo Abe has won the Japanese elections.
The party, had ruled Japan for almost 50 years until 2009. Now it has come to power again with a lanslide victory.
Mr. Shinzo Abe is all set to become the new Japanese Prime Minister. He was also Japan's Prime Minister between 2006 and 2007. The current Prime Minister of Japan is Yoshihiko Noda.