Olive Ridley, a sea turtle, Image Credit: Flickr user _thinrhino, via CC
Well, it is nesting time for sea turtles around the Indian Ocean. And we are so excited to tell you about that in advance.
The Marine Wildlife Sanctuary in the state of Odisha, India is expecting thousands of olive-shelled sea turtles, or Olive Ridleys as they are called, to emerge out of the Indian Ocean anytime now.
Going by the past years it will be an amazing scene with mommy sea turtles visiting the shores in batches and laying hundreds of thousands of eggs eventually to hatch into little baby turtles.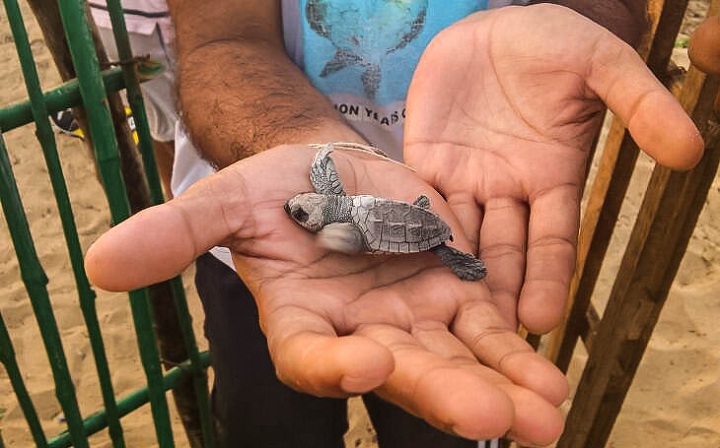 Olive Ridleys are medium sized turtles found in warm waters of Indian and Pacific Oceans. Particularly around India, they migrate thousands of miles to land onto Gahirmatha Beach in Odisha, now recognized as the the world's most important nesting beach for the ridleys.
Each mommy ridley lays more than 200 eggs and leaves the shore before they hatch, letting the baby turtles find their way back to the ocean on their own. Talk about giving independence to kids early on! Check out that and some other interesting turtle facts, here.
And also take a look at this insightful video that teaches how difficult it is for baby turtles to survive and reach back on their own.
If you have seen the video you will know it is getting harder for sea turtles to survive. Let us all take a vow that we will protect sea turtles in whatever way possible for us to do so.
And tell us if you actually visit the Gahirmatha Beach this nesting season. Remember, the ridleys can visit anytime November 1st onwards.
A quick fun fact:
A group of turtles is called a nest or a bale.

A group of tortoises is called.. a creep!
Funny right?