Ireland. Leprechauns. St. Patrick, The Saint.
The St. Patrick festival this year will be celebrated from 14th – 18th March in Dublin, Belfast and London. Big Parades are organised in these cities. Every year 17th March is celebrated as St. Patrick's day to honor the memory of  St. Patrick. He was a great saint working for the good of the people. St. Patrick is also the patron saint of Ireland.
The color green is associated with this day so people try to wear green, put green ribbons or green wigs. The phrase "the wearing of the green", meaning to wear a shamrock on one's clothing. Shamrock is a three-leaved plant, that St. Patrick used – to explain the Holy Trinity to Irish people.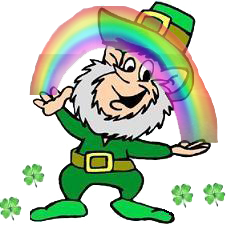 People join in parades and cook feasts with a lot of green recipes. Some dress up as leprechauns and find hidden pots of gold.
Did you know: The Leprechauns are a kind of fairy in Irish mythology who look like old men, spend all their time busily making shoes, and store away all their coins in a hidden pot of gold at the end of the rainbow :)
This day is hugely famous in US as well because a lot of people in the US are of Irish descent.
Happy St. Patrick's Day!