An awesome travelogue by our little writer Esha –
Ah, Singapore! You might say it is just another urbanised island with nothing special. That if you want to visit a place it should be grand, like Maldives. But no, Singapore is not what you think. It has beautiful attractions, clean air, and greenery everywhere. Do you want to know what I enjoyed the most when I visited Singapore this autumn?
Singapore Flyer: What is better than a beautifully lit gigantic Ferris wheel that stands proudly among the skyscrapers! It gives a magnificent view and is also known as the observation wheel.

Jurong Bird Park: If you are a bird lover you have come to the right place. Just steer yourself to the Jurong Park, a birds paradise. Penguins, pelicans, lories, owls, flamingos – you name it, and you will find them in the park. Fascinating, isn't it?

Gardens by the Bay: The right place for nature lovers. The two main attractions in this region are Flower Dome and Cloud Forest. Imagine entering a huge air-conditioned room with all the world's colorful flowers you can ever find. Cool isn't it? That is the Flower Dome. It is also a greenhouse with different kinds of plants. It leaves anyone breath-taken after they leave.

Welcoming with a cool mist and the tallest indoor waterfall in the whole wide world is the Cloud Forest. Here you find many levels with plant forms in a mini forest, each level more interesting than the other.

S.E.A. Aquarium: Ooh la la! A peek into the marine life in the ocean, air-conditioned you find more than 10,000 fishes inside. It has a gigantic theater screen size aquarium filled with all the marine life you can imagine. I believe one can sit there for hours together and enjoy the wide screen view. It is a heart-warming sight.

Adventure Cove: I could not visit this, but I am told this is a big water park with water rides a plenty. So much fun that one would want to do the rides again and again. A place where you can swim with the dolphins, net stingrays and snorkel with beautiful fishes. How I wish I could check this park out.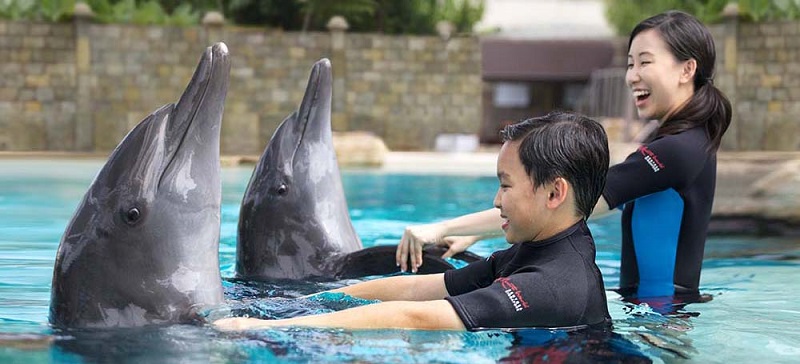 Singapore Zoo: Yay, so many animals! The zoo has 11 animal zones with amazing diversity. Must meet orangutans for breakfast, feed the giraffe and see the Elephants at Work and Play show. Also, make sure you visit the Polar Bear, the cheetahs, the Koala bear, the Kangaroos and the Pandas.

Universal Studios: The biggest attraction in Singapore, the Universal Studios offers many adventure rides. My personal favorite was the Battlestar Galactica, a dueling roller coaster. And a frightful Revenge of the Mummy ride where pharaohs unleash their curse onto an indoor roller coaster. Another awesome one was the Transformers ride, where tall screens project 3D images and give us a glance of the future ( The Transformers ride was of course about Autobots trying to protect themselves from the Decepticons )

So, I really-really enjoyed my 5 day trip to Singapore. Have you visited there recently? Please tell me what you liked the most about Singapore.

Image Credit: Featured Image by Flickr User uwebkk