Kinooze lets kids connect with things they want to know about – News, interesting facts, almost everything.
For kids reading real world stories is essential part of their growth. It lets young minds think on their own and learn to connect the dots as they see. We found that it was incredibly difficult for us to provide our kids with a source they wanted to read, that they could understand, that we could trust. Kinooze intends to be that resource, online, for millions of kids and their families.
Kinooze was founded in 2012 with registered office in Bangalore, India.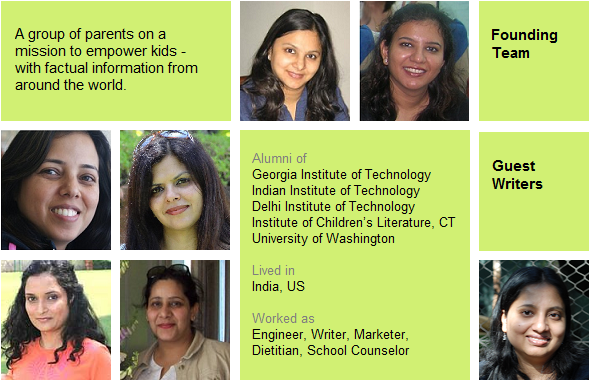 Book-worm, thinker, writer. Tara is alumnus of IIT Roorkee and Georgia Tech and holds bachelors and masters degrees in computer science and electrical engineering respectively. Tara quit her lucrative corporate career so that she could mentor her two kids and provide them an environment which is conducive for learning through exploration. With no formal training in writing Tara set out to start writing non-fiction for kids about an year back, after having read a zillion story books to her two kids. Tara believes in providing a platform which can create awareness and build knowledge that truly benefits children throughout their lives.
Chanda Agarwal
Chanda is an IT graduate from Delhi University and has spent several years in various parts of the country, interacting with people from diverse cultures. She is married with one kid and loves reading to children. She firmly believes that children can't learn by force. They have to be intrigued and involved, with learning through a natural process of discovery and understanding. A creative by instinct, Chanda loves to explore all forms of art and with her writing believes in providing simple, fun and fact-based information to kids which they can read and learn during their formative years.
Passionate about books, Shweta believes reading is the best way to acquire knowledge. As a child, she was always surrounded by a wide variety of books, from Fairy tales to Enid Blytons to Reader's Digests. It was this passion that led her to writing. A graduate from the Institute of Children's literature, CT in USA, she is well-trained in writing for children. Her two young kids provide all the inspiration she needs to put together articles children love to read. Apart from writing, Shweta is an IT professional and currently involved in running her own software services business. At Kinooze Shweta has contributed more than 20 posts on variety of topics – facts for kids, poems and parents-corner.
Ashma Gomber
Ashma is currently working with Hewlett Packard India. She is an electrical engineer by profession, an avid reader and a loving mother. Ashma frequently writes at Kinooze Parents Corner.
Nidhi Tayal
Nidhi is a registered dietitian, a blogger and a school counselor. Nidhi is a post graduate from Lady Irwin College and has served in leading hospitals and fitness centers in the Delhi-Noida area. She was a freelance counselor associated with a NGO "Behind The Moon" dealing with pediatric nutrition. Recently, she has been working as an educationist at an NGO-run school teaching the underprivileged. Nidhi writes columns for various online magazines. Her columns featured in Prevention, an India Today Group Magazine has won her numerous accolades.
Ritu Bajaj
Ritu has a MBA in Marketing and has additionally studied Environmental Law from NLSIU India and University of Washington USA. Ritu is passionate about environmental issues and sustainable development and is working on raising awareness about them in her community.
Swati Gupta
Swati was a computer professional before she left her promising career to devote quality time to her little one. Today, she is a full time, busy mother of two wonderful kids.