Indian-American astronaut Sunita Williams took command of the International Space Station (ISS) on Saturday. Williams becomes the second woman to command the ISS in its 14-year history.Williams already holds three records for women space travellers: longest spaceflight (195 days), most number of spacewalks (four), and total time spent on spacewalks (29 hours and 17 minutes).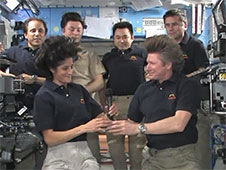 She was handed over the charge by Expedition 32 Commander Gennady Padalka who will be returning to Earth today.
Williams will stay at the station till before returning back to Earth in November.
Did you know?
The first female commander of ISS was NASA astronaut Peggy Whitson.