It was my favorite bear when I was a kid, and I am sure it is yours. It is none other than adorable, lovable Winnie the pooh. Do you ever wonder who brought Winnie to life? Who named him? Who was the first kid ever to read about him? Would you like to know some interesting facts about the hundred acre wood resident? Come let us start the adventure.
The story goes way back to almost hundred years back. There is a place in Canada called Winnipeg. Some soldiers were travelling by train from Winnipeg to Europe. One of them was a lieutenant called Harry Colebourn. When the train stopped at the White River, Ontario, Canada Harry spotted a hunter selling a black bear cub. He bought the cub for $20 from a hunter who had killed its mother. He fondly named the cub 'Winnipeg'. The name became 'Winnie' in short.
Colebourn was a soldier who travelled a lot. So when he reached London he left Winnie in the care of the London Zoo. Winnie became a much loved attraction at the London zoo.
Now there lived a boy in London named Christopher Robin Milne. Sounds familiar? Christopher loved to visit the London Zoo with his dad. 'Winnie' was his favourite animal. He sometimes spent hours with Winnie in front of her cage. Out of love for the bear, he even named his stuffed teddy bear at home Winnie. One thing is clear – Winnie the pooh was created by someone who saw such affection between Christopher Robin and Winnie. Who could that be?
It was Christopher's dad! He was a famous author. His name was Alan Alexandar Milne or simply A.A Milne. He mentioned the bear for the very first time in a poem in his children's verse book 'When We Were Very Young'. Later Milne churned out stories about Winnie and Christopher. Slowly, he needed more characters to add more fun to the stories. So, the imaginative writer brought to life Christopher Robin Milne's other stuffed toys – Piglet, Eeyore, Kanga, Roo and Tigger. All these toys are at the display in New York in The New York Public Library.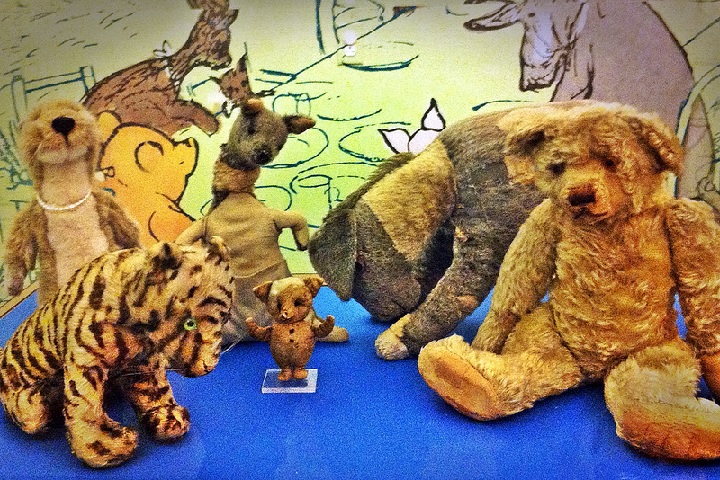 Even The Hundred Acre Wood is fictionalized name of Ashdown Forrest in England where Milne had a home. All illustrations for Winnie books written by Milne were done by his friend and artist E.H Shepherd. Since its Christopher Milne's dad who created Pooh, I'm sure he was the first kid ever to read about it!!;) Hear author A.A Milne read his own creation in a very old video:
The Pooh books were later adapted to make animations by Walt Disney. Disney made many changes like how his name was written and what he wore. The bear was originally called Winnie-the-Pooh by Milne, but when Disney animated the character, they dropped the hyphen. Now the title without hyphens is much more popular. Also, the red shirt pooh wears is an addition by Disney. The Pooh you see today on television is very different from the bear Milne had conceptualized but nevertheless the spirit of the characters is still the same.
My favourite character in Winnie series is of course Winnie! ;) Which one is yours?
Image Credit: Featured Image by Flickr User Sam Howzit, via CC