Have you ever thought about how the astronauts eat food or what is it that they eat? Do they carry vegetables and cook in space? Or do they take ready to eat food and eat there.
Well they take ready to eat food there. The cooked food that they take to space is freeze dried. It means that all the water from the cooked food is drained out, and it is packed in vacuum bags so that it doesn't get spoiled. Astronauts add water to this dehydrated food half an hour before they want to eat it. There is an oven to heat up the food. So they can eat pretty much everything that we eat on Earth – vegetables, cereal, sandwiches, nuts and even a cake!! All drinks like coffee, lemonade, tea are in powdered form and stored in pouches that have an attached straw.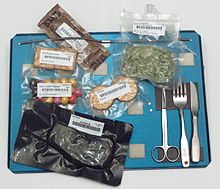 Now how do they eat? Considering the zero gravity condition, which makes everything fly, in space it must be pretty funny to chase floating bites of food!! But astronauts are smart space travelers. Food aboard the Space Shuttle is tightly packed and sealed in plastic bags and is served on a tray which has magnets and Velcro to hold the cutlery and food packets to the tray.
Anything too crumbly or powdery is avoided in space as crumbs can float away and spoil the aircraft by blocking some part. For example, sandwiches are preferred over bread. Salt and pepper are provided only in liquid form because tiny crystals might float here and there.
Have a look at this interesting video to discover all about astronauts eating in space:
Don't miss reading these fun space food facts:
The first meals eaten in the space were slushy foods packed in tubes like toothpaste!
Coca Cola designed a Coke dispenser so that the space shuttle crews can get a cold soda whenever they want one.
In the future, when on longer missions, astronauts might grow their own grains and vegetables. A space farm? Wow!
Related posts