What if you went grocery shopping with your Dad and instead of pushing the cart, the cart followed you? As you went from aisle to aisle, the cart began talking to you.
The juice in your shopping list is out of stock right now. Maybe you could try another flavor? There's a discount offer on a bigger bag of rice. Do you want to pick that up?
And when you're done, the shopping cart even does your billing on-the-spot. Don't spook out, for this can indeed come true. In 2012, a grocery store called Whole Foods had tested few such 'smart shopping carts'. Smart shopping carts have been in the planning for long. Although they are yet to become a familiar sight.
Grocery shopping? Yawn…
The way people shop has seen a sea change in the last ten years. Online shopping is gaining popularity. Today, neighborhood shops are having a hard time competing with them. People often turn to the ease of shopping from home through the Internet or a mobile app. Who needs to visit a store?
Some grocery stores have opened their own online channels. Others are luring customers by sending them offers and discounts through mobiles and apps. Yet, more needs to be done to turn the shopping experience from 'dull' to 'wow'. The good news is grocery stores are trying to find new ways to make shopping fun. And a smart shopping cart is one such wonderful idea.
What makes a shopping cart so smart?
How do you add that bit of intelligence to a shopping cart? The idea is pretty simple. Shopping carts are strapped with Bluetooth radios and sensors. The sensors are strapped onto the wheels of regular, ordinary-looking carts. Beacons around the store allow tracking the location of the cart. Once the cart's location is known, it is simple to find out the products that lie nearby. The customer can then be told of discounts and offers on those items. If there is any new product at that place, that data can be easily shared too.
A shopping helper
Smart Shopping Carts act like your very own shopping helper. They scan the products you add and keep track. Based on your shopping list, they tell you where to go next. Or maybe, they will suggest recipes too. In 2013, a Mayonnaise brand had run an experiment. They used smart shopping carts to promote their product. They loaded carts with tablets and RFID readers. The devices tracked the purchases and offered Mayonnaise-based recipes. The sale of the Mayonnaise brand increased as a result.
Smart Shopping Carts can even help you through easy check-out. Just swipe your credit card. You can avoid those boring long queues at billing counters. But, remember should any cart leave the shop's parking lot, the scanners will raise a flag. This helps in preventing carts from being taken too far away.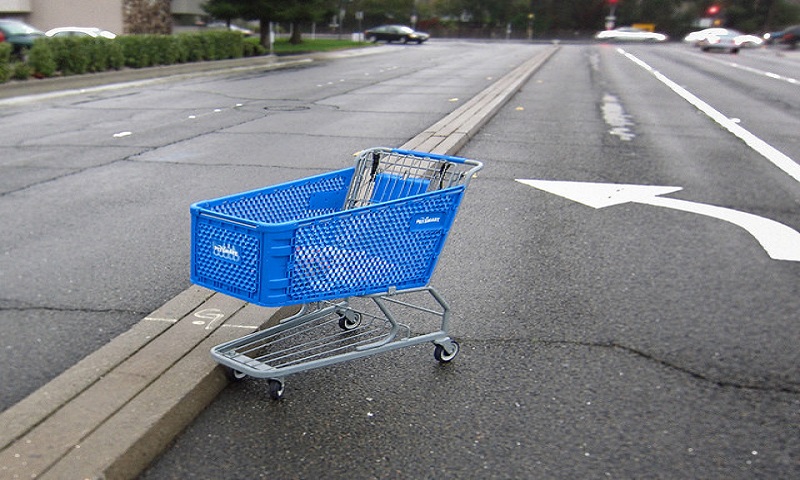 Eco-friendly too
And the cherry on the cake? These shopping carts will not need any batteries or power source to run. They get their energy from the movement of the wheels. A clean, green innovation.
Smart cart, Image Credit: Flickr User, David Prasad, via CC