As the name suggests, Sydney Opera House is located in Sydney, Australia. It is a very well recognized and unique structure on the shores of Sydney harbor. It is one of the most famous performing arts center in the world. The building is shaped like sails of a boat. It stands in the middle of the ocean just like a peninsula. The land on which the building stands is called Bennelong point and was once home to a magnificent fort. It is probably the most photographed building in Australia. Over the years, the building has become synonymous with Australia.
Sydney Opera House came to life as a simple suggestion from an Australian man named Eugene Goossens, an influential name in the world of art and theatre in 1940s. He suggested the need for a bigger venue for large theatrical productions. As the performances were getting larger, the venue usually used for such productions – The Sydney town hall, was not proving big enough. It was also Goossens idea that the new opera house should come at up Bennelong point for its outstanding location.
All that decided, in 1955, a design competition was launched in search of an architect skilled enough to design a unique structure that could be used not only for operas but could also be a venue for musical and ballet concerts, meetings and lectures. Architects across the world sent their entries and shared their ideas about the multi venue performing arts centre that could hold thousands of spectators. After a search of nearly two years, in 1957. The winner turned out to be a Danish architect Jorn Utzon and work on the opera house started.
But it was not until 1973 that the opera house opened up. It took almost 15 years, 10,0000 construction workers and $102 million to complete the project. Phew! Guess it was not that easy to build a structure that was so different.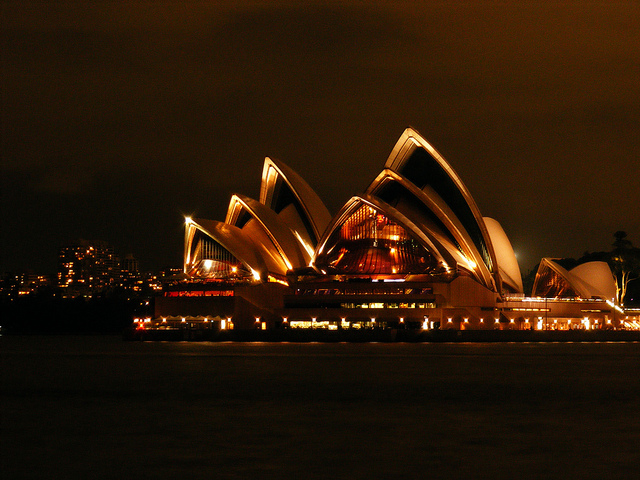 Today, Opera house has become popular world wide because of its groundbreaking modern architecture. It has been often considered as the greatest architectural work of 20th century. That is the reason that although it has opened up as recently as in 1973, it is already a UNESCO World Heritage site. Compare that to the ancient sites like Pyramids of Egypt and Colosseum of Rome.
How unique is this?
The topaz coloured glass used in the Sydney opera house was made to order by a French company in a shade that is used only by the opera house and no other building around the world.