The gigantic creature of the sea,

But not a fish as you guess it would be,

Instead its a mammal just like you and me..
W H A L E !!
Yes it true. Whale is not a fish but a mammal which means that whales breathes air, have body hair, are warm blooded and give birth to young ones and nurse them with their milk. They are very huge sometimes about 100 feet in length (which would be about as tall as a 10 storeyed building. Whoa!). These enormous creatures have been around since 40-45 million years ago.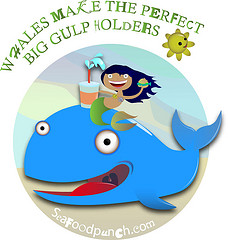 The most unique feature whales have is a hole located on the top of their head called a blowhole. It allows them to remain inside the water and still breathe. They eject extra water from the blowhole like as if there is a tiny fountain fitted on the top of their heads! Then they inhale air into the lungs. This water is ejected by different whale species in different patterns.
There are two types of whales:
Toothed Whale – As their name suggests they have a teeth to catch small fish and squids and swallows them whole. Toothed whales have one blowhole. There are about 66 species of toothed whales.
Baleen Whales – Baleen whales have very fine comb-like structure in their mouth called Baleen. Baleen sieves krill, plankton and small fish swimming in schools. They have 2 blowholes.There are about 10 species of baleen whales. Baleen whales are larger than the toothed whales.
All Whales are mostly found in cold and deep waters of the oceans around the world. To keep them warm they have a thick layer of fat underneath their skin called blubber. Stranded whales often die of dehydration and the excess warmth provided by the blubber even when outside the water.
Did you know that in whales Males are called 'bulls', females are called 'cows' and newborns are called 'calves'. Interesting :)
Now let's see how many whales you can name??
Pilot whale, Beluga whale, Baleen whales, Blue whale, The Humpback whale, The Bowhead whale, Minke whale, Killer whale…Quite a few, isn't! Find out about some more and let us also know..