The Great Barrier Reef has lost half of its coral cover in the last 27 years. Loss of coral is caused mainly by cyclones and crown-of-thorns starfish as reported by Australian Institute of Marine Science in Townsville.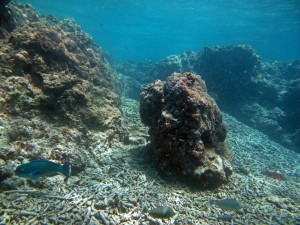 There are two major reasons why this is happening tropical cyclone storms, growing population of crown-of-thorns starfish and warm sea temperatures.
The reefs can regain their coral cover but that will take  10-20 years if not disturbed. The starfish can be stopped but the cyclones are under no one's control.
(Image &News Credit : scienceinpublic.com.au/marine)