In ancient Rome, amphitheaters were built in the city. They were places where performances and events were held for public entertainment. Amphitheaters were open air, mostly circular or oval and could accommodate thousand of spectators.
The Colosseum, the largest amphitheater to be built during Roman Empire was established by Roman Emperor Vespasian who was the founder of the Flavian dynasty. For this reason, Colosseum was originally known as the Flavian Amphitheater. The current name – Colosseum was derived from the giant statue of Nero called "the colossus of Nero" which stood along side the stadium.
Interesting Colosseum Facts for Kids
And why it is one of the New Seven Woders of the World
The Colosseum is built right in the center of Rome, Italy. It is made up of stone and concrete, has about 80 entrances and could hold 50,000 spectators. It was built in only 9 years by almost 60,000 slaves.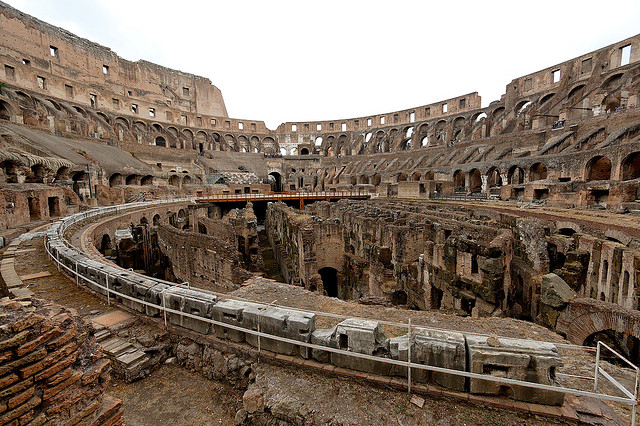 It was used to hold Gladiator fights, chariot races, animal hunt, drama and play. Sometimes Colosseum was flooded with water in order for it to look like an ocean and then boat battles took place. All these events were presided by the Emperor.
Over many years, parts of Colosseum have collapsed due to severe earthquakes. It has also been damaged by stone robbers who steal the marble for money. But still Colosseum is considered as one of the seven wonders of the world. Millions of people visit Rome every year to marvel this gorgeous monument.
In case you did not know:
Gladiators were the slaves that were used to fight either with each other or with animals for public entertainment.
Colossus means a huge statue.
Amphitheater is derived from Greek word 'ampitheatron' where 'ampi' means 'on both sides and 'theatron' means 'place for viewing'.