Every year Santa Claus comes to your house all the way from North pole to deliver those much awaited Christmas gifts. It's no easy feat to pull off. Does he do it all by himself ? Do you think he has helpers? Of course, he has helpers! And these Santa's top helpers need a big introduction.
Let's talk about Santa's long journey. Have you ever heard of a train/ bus service to the North Pole? There is none. So does he drive? or does he fly?
Well, Santa has a team of highly skilled nine reindeers. Nine flying reindeers !! They pull Santa's sleigh, tirelessly, night after night so that he can reach your homes just in time. They are Dasher, Dancer, Prancer, Vixen, Comet, Cupid, Donner, Blitzen and Rudolph.
The most famous amongst them all is Rudolph, the red nose reindeer. Santa met Rudolph when once he went to Rudolph's house to deliver his presents. There, he noticed his nose that glowed in the dark. Santa thought his glowing nose could guide his sleigh during the foggy nights. So, he asked Rudolph to lead his sleigh and Rudolph happily agreed.
That's about the travel. Where does Santa buys all his gifts from?
Santa Claus has his own gigantic toy factory at North Pole. Inside the factory, tiny creatures, called elves  work round the clock to make presents. Santa's elves have pointy ears, long noses and are dressed in green and red clothes with pointy hats. They live with Santa Claus in the North Pole and not only make the toys in Santa's workshop but also take care of his reindeer.
Have you met Mrs. Santa Claus?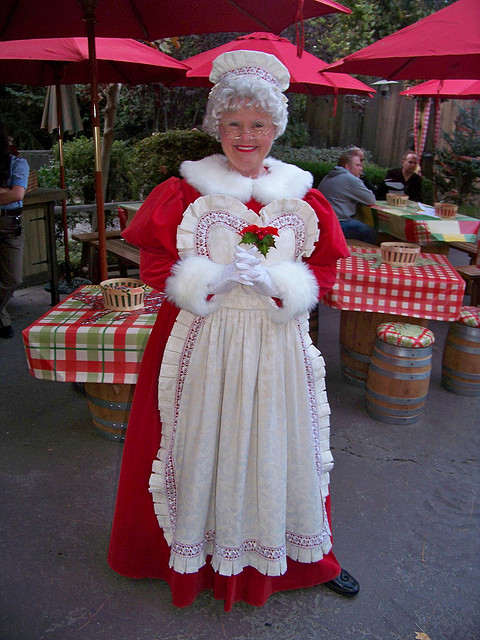 Lovely Mrs. Claus is the wife of Santa Claus!! She takes good care of Santa, reindeers and elves. She makes cookies for them to eat, she works with the elves and prepares toys with them. At times, when Santa is exhausted or sick, she also becomes the Christmas gift-bringer !!
Santa's top helpers work so hard to make your Christmas magical. How about doing something thoughtful for them this Christmas??