The Taj Mahal is one of the most wonderful buildings ever built in the history of mankind. No wonder it is one of the seven wonders of the world. History says that Shah Jahan, the Mughal king in the early 17th century lost his beloved wife Mumtaz Mahal. He constructed Taj Mahal in her memory and as a resting place for her tomb. The tombs of the Emperor and his wife are placed side-by-side inside this beautiful piece of architecture.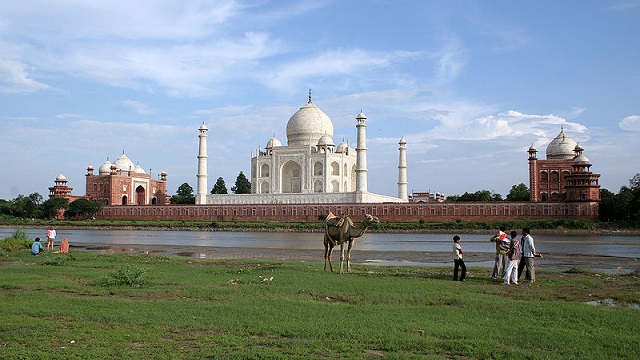 Interesting Taj Mahal Facts
Shah Jahan poured a lot of his wealth during the creation of this great monument.
Situated at the banks of Agra's Yamuna River, Taj Mahal is an achievement of almost 20,000 stone carvers, masons, and artists.
These workers were employed from all over India, and some came from as far as Turkey and Iraq.
It took them almost 20 years to complete the monument and its lush gardens in year 1654.
Sadly, all the artists were rewarded for their good work in a very unusual way – their hands were chopped off so that could never recreate a beautiful monument like the Taj Mahal again.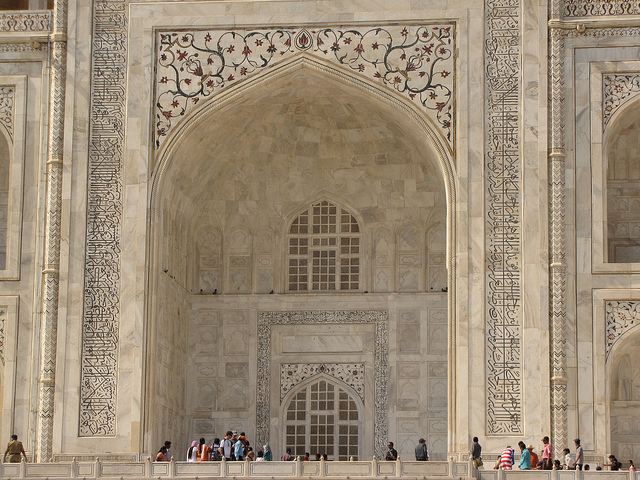 More Information about Taj Mahal
The Taj Mahal is made from white marble stone with precious gems and stones embedded in its walls. The precious stones were plundered and looted by foreign invaders in recent times.
The monument appears pink in the morning, white during daytime and golden during evening. The four pillars (called minarets) around the main dome are slightly tilted so that they fall away from the central tomb, in case they were to collapse.
The Taj Mahal is a perfectly symmetrical building except at one place, and that is the tomb of the Emperor and his Queen. This is because Taj Mahal was to have the tomb of only the Emperor's wife when it was planned. Shah Jahan died in 1666, about 12 years after Taj Mahal was built and was then buried right next to Mumtaz Mahal's tomb.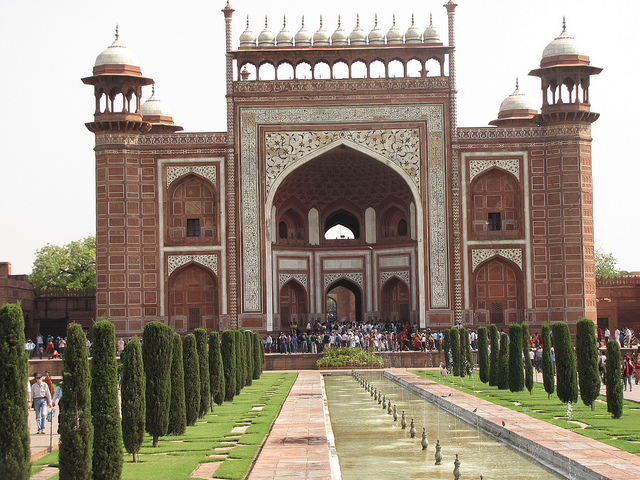 Two red sandstone buildings stand beside the main mausoleum on either side. One, to the west, is a mosque. The other is a former guesthouse.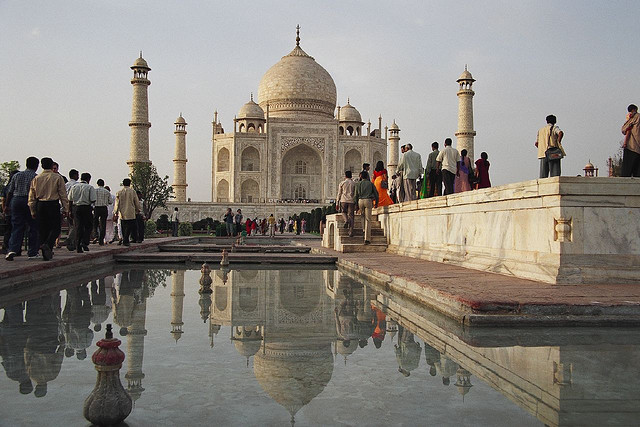 The lush gardens surrounding the Taj Mahal have an enormous reflecting pool which doubles the beauty of Taj Mahal.
Taj Mahal became a UNESCO World Heritage Site in 1983 (See another example of a world heritage site). The monument is threatened by environmental pollution due to being on the banks of the river, including chance of acid rain from a nearby oil refinery. Recently, there is increasing evidence of other types of organic smoke that might be affecting the Taj Mahal that we must watch out for.
Useful Resource:
If you are visiting Taj Mahal we suggest you use Audio Compass's Travel Audio Guide App created in partnership with the Archeological Survey of India. The App has audio stories to accompany your visit that bring alive the history, culture and heritage of this great monument.