Long time ago, a girl named Helen was born to very loving parents. She was a beautiful and fun loving child. When she was around 2 years old, she came down with a severe illness. Her parents did everything they could to save her. Helen survived but she lost her eyesight and the power to hear. It was indeed extremely tragic.
As Helen grew up, she became extremely ill behaved. She yelled at others and threw things in rage. Her parents were puzzled as to why Helen behaved so oddly. The truth was that Helen was terribly sad and frustrated from the inside. She was sad because nobody understood her as she was blind and deaf.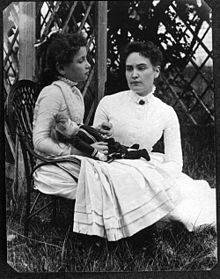 When Helen was 6 years old, her parents introduced her to Ms. Anne Sullivan who was 20 years old, and herself visually impaired. Sullivan soon started living with Helen. She became her caretaker and teacher. Slowly, Sullivan made Helen feel and touch different objects and then wrote them in Helen's palm with her fingers. She started with simple things like doll, or a mug – in the beginning. But Helen could not understand at that time that every object had a word uniquely identifying it. She was unable to grasp a thing. She grew more frustrated.
Ms. Sullivan did not give up. One day while Helen was playing with water, Ms. Sullivan, as usual, wrote water on her palms. Bingo! This time Helen realized that her teacher was trying to symbolise the idea of water on her hand. Helen got so excited that she spent all her day asking her teacher to write names of many different objects on her hand.
After that Helen never looked back. Over the course of next few years, Helen attended many schools for blind and deaf before finally becoming the first blind deaf person to graduate and earn a Bachelor of Arts degree. During this time, Helen made friends with many famous people like Graham Bell, Charlie Chaplin and Mark Twain.
Determined to interact with others normally, overcoming her disabilities, Helen learnt to speak. She learned to "hear" people's speech by reading their lips with her hands. She became proficient at using Braille and reading sign language with her hands as well. This way she learnt to interact with both disabled and normal people.
Keller went on to become a world-famous speaker and author. Keller wrote a total of 12 published books including her autobiography, The Story of My Life. She also wrote many articles. Helen was loved not only in United States where she was born but was admired by people all over the world. While she is depicted on a quarter (American 25 cents coin) in the state of Alabama, US, there are streets named after Helen Keller in Spain, Israel, Portugal and France.
Helen's life gives us a valuable message. Even 'Impossible' means 'I'm possible'!!